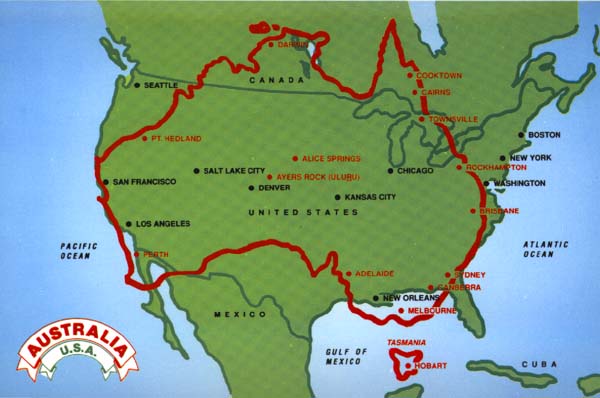 Gavin: The first leg of our trip home tomorrow is a two-hour flight from Cairns to Brisbane. Two hours in the air and we won't even make it out of Queensland!
I think most Americans think of Australia as an over-sized island at the bottom of the world, but have no idea how big it really is.
It's big! We've been living in "
Far North Queensland
" -- the pointy bit in the upper right of Australia. Far North Queensland is about as big as New England, but has a population of just 250,000 people-- much less than the
Springfield Metropolitan Area
. Or, if you've travelled out West, you can think of Far North Queensland as being kind of like Wyoming-- it's about the same size, but has half as many people.
We're already thinking we'll come back in a few years. We might spend a couple of months seeing some other bits of Australia; my uncle lived in Western Australia (which is even bigger and emptier than Queensland) and knows some fantastic spots over on that coast. And I think I'll have to drag the family around Melbourne WAY down in the other corner of the country, to see where I spent the first five years of my life.